Make business sense
Happy employees are productive employees that give a company and an organization a positive image. Laughing employees achieve more, have less stress and are less ill. Scientific research has proven that laughing helps to convert negative stress into positive stress. Therefore you will feel better, both spiritually and physically.
SMILE AT WORK organizes LAUGHTER SESSIONS and LAUGHTER WORKSHOPS. A laughter session is a unique concept of Unconditional Laughter, according to this; anyone can laugh for No Reason. It does not rely on jokes, humor or comedy. It initiates laughter as a form of an exercise in a group, and as the Laughter Sessions progress; Laughter becomes real and contagious. This results in multiple health benefits, primarily increasing the supply of oxygen and boosting the immune system. It energizes and recharges the metabolism, making one feel fresh and energetic.
SMILE AT WORK kan bij de start of als onderdeel van: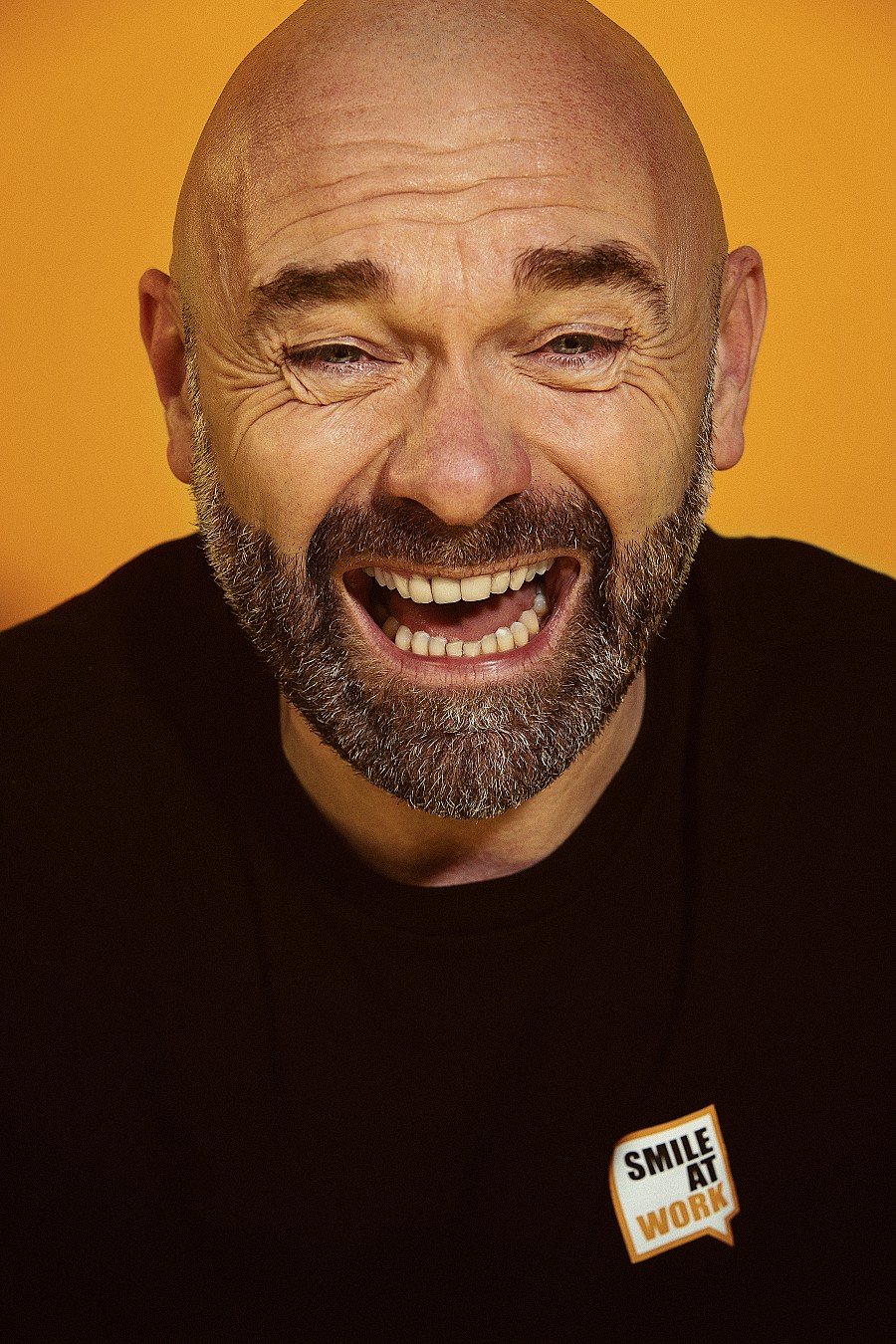 A relaxing exercise in which you learn to put things in perspective, move and come together as a team.
Johny Brootcoorens, B Post
Queen of the Office would like to thank you for the laughter workshops. The feedback shows it was a success, hopefully for you as an instructor as well
Queen of the Office Event, The Netherlands
The laughter workshop relieves unnecessary tension. Thanks to the positive approach it's easy to let go all tension. Geert's laugh works like a charm.
Marc Geerinckx, B Post
Thanks again for your unbelievable drive during the shooting. We're thinking of new ideas, so you'll hear from us again :-) A smiley has never been more appropriate.
Isabelle Maenhout, Navitell
Hello Geert
Thanks again for the laughable laughter session yesterday at Vanhout!
Once pulled out of our comfort zone, it turned out to be a successful activity.
Nice feedback heard today.
Jamie Van den Bergh, Vanhout - Geel
Brand activations & product launches
Looking for an original way to place your Brand in a cheerful, ludic, hilarious or funny way? Then we would like to think with you to make this a great success!
In 2015, Geert participated in the new Coca Cola campaign with the new baseline "Choose Happiness.
---
Coca-Cola had the idea to support their "Choose happiness" campaign with a local market stunt. With the insight 'happiness starts with a smile', they created the Coca-Cola laughmob concept.
In order to have the biggest impact, it was their mission to make people laugh in an environment where they rarely smile. They choose the metro to do so. Watch the video to see how we turned subway faces into smiling ones!
The results on social media were mind-blowing:
+1.500.000 views
+12.000 likes
+10.000 shares
+1.000 comments
"Hearing his laughs made me happy"
"Bless him for making everyone laugh to ease their worries for a while"
"That man is the need of this world"
"This guy made me start laughing lol he has a funny laugh"
"Awesome man....I started laughing too"
"He cracks me up every time!"
"He made me also laugh"
"We need people like him"
---